For you seasoned Mansionites, this post starts out with stuff everyone knows, proceeds to stuff a lot of people know, goes from there to something not too many people know, and ends up with
thoughts that no mortal has ever thunk before
. Ever.
So don't bail early.
(Not only that, but dig on the spectacular new artwork discovered only in October of 2015!)
The Flying Dutchman painting in the changing portrait hallway has remained constant in both its appearance and its position from the Haunted Mansion blueprints down to the present hour. Not that it hasn't had a turbulent history. Like all five of the paintings, it originally changed back and forth with a lightning flash effect, but sometime within the first few years, the paintings went to a slow morphing effect, reportedly because it was found that the lightning effect could trigger fits for people with epilepsy. It stayed like that until January of 2005, when the new, higher tech versions were installed. The current lightning effect is a throwback to the original presentation.
Marc Davis, as usual, was responsible for the artwork, although his own paintings only served as guides for other artists who painted the actual showpieces. The effect itself, as usual, was extremely simple: two slides in a special two-slide projector pointing at the same screen from behind. Because they were slides, it was possible to put them in backwards by mistake, and this happened surprisingly often, to judge by the number of photos I've seen in which one or more of the five images is reversed.
Davis never cared for the finished product. This was another compromise made necessary by the speed with which people would go by. Many, if not all, of the Davis changing portraits depicted a whole series of changes (as many as six), that had to be trimmed back to just two. What's missing from the Flying Dutchman (and that is the official name) is, of course, the Flying Dutchman. It's supposed to be the ghost ship seen by sailors before they meet their watery doom.
.
"Lars, we are
so
screwed."
The FD was another one of the famous ghosts that required no introduction to the average viewer and could be employed in a gag that could be read in an instant. What we've got instead is a normal ship getting shredded by a storm. Davis originally
conceived of a ghost ship approaching from a distance in a four-panel series dated to 1964.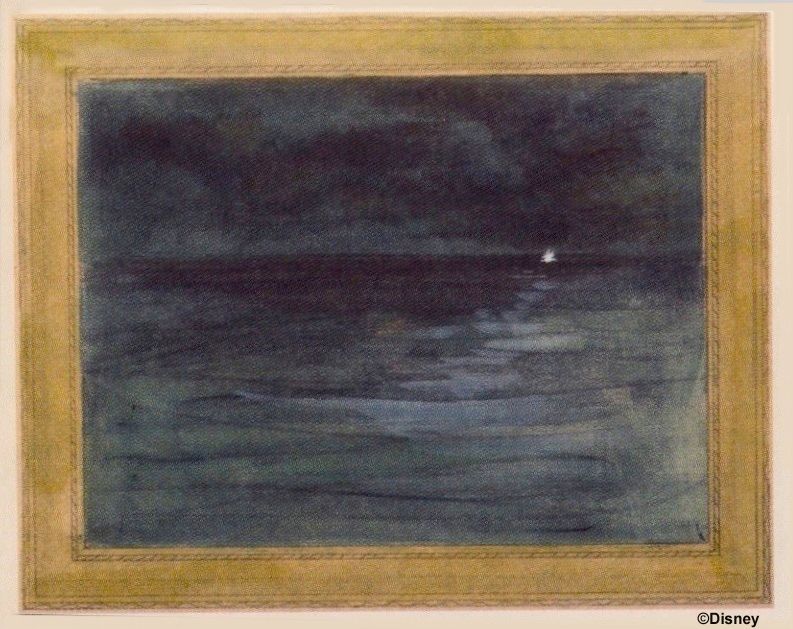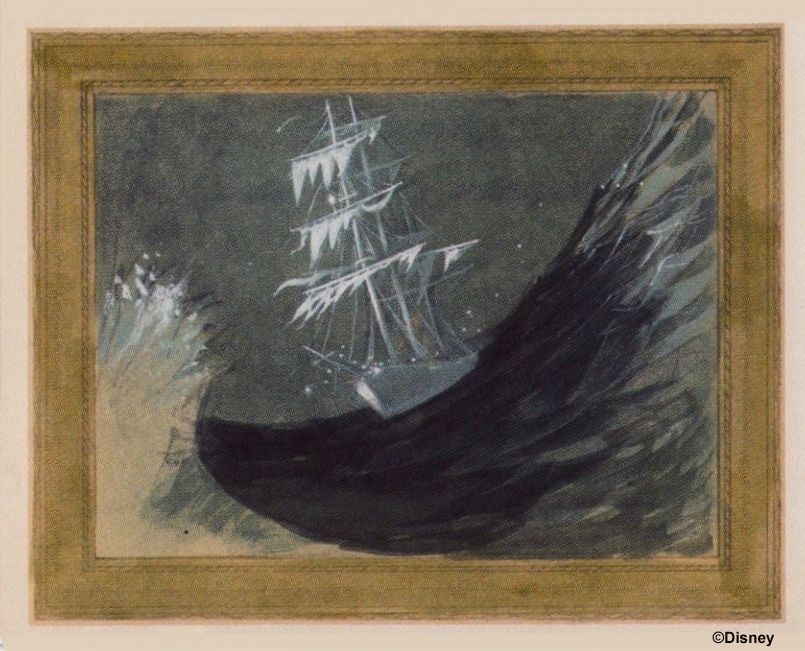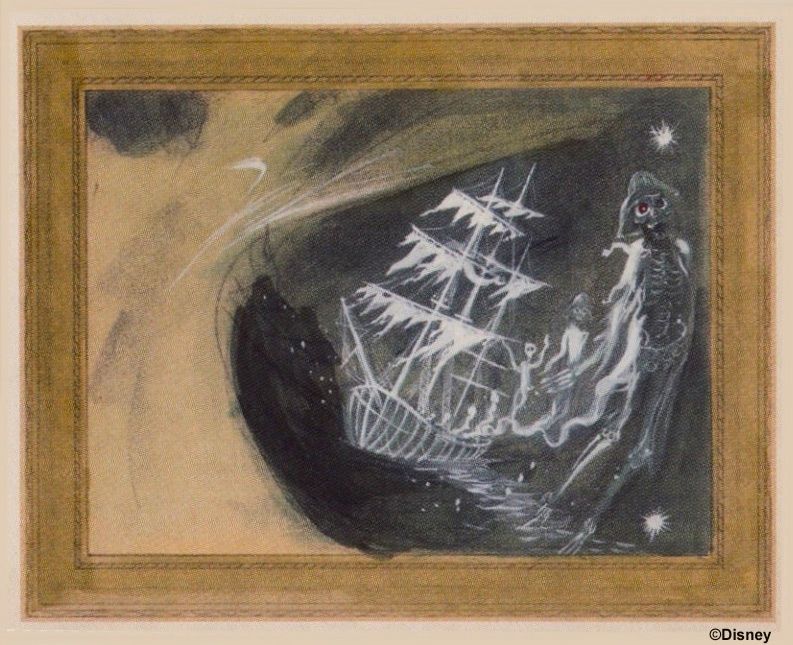 You can also see the ghosts-coming-out-of-the-ship gag in a miniature
painting found in one of his Portrait Hall concept sketches:
This eventually evolved into a six-part series:
I like Davis's depiction of the electrical phenomenon known as
St. Elmo's fire
as part of the mix. One of the
Dutchman's eyes, in fact, is a ball of St. Elmo's fire, and his fingers are lightning. Great imagination, eh?
The current incarnation of the Flying Dutchman is not very different from the one it replaced.
It's too bad all this great concept art never made it into the finished product. Such a waste. But maybe not entirely a waste. Is it possible that Davis's Flying Dutchman was an influence on the design of Davy Jones in Pirates of the Caribbean: Dead Man's Chest? As always, dear reader, you can decide that one for yourself. I give it a solid maybe.