.
A trivia item known to most hardcore fans is the fact that the term "doombuggy" occurs only in the "breakdown spiel," when riders are told to remain seated in their halted "dooooombuggy," as X Atencio pronounces it (that's his voice). Theoretically, you could ride the HM your entire life and never hear the word.
Breakdown Spiel
Less well-known is the fact that "doombuggy" was used in press releases given out for the grand opening, so it's been an official term since Day One. It's a pun on "dune buggy," of course, firmly dating the whole business to the late 60's.
That is soooo groovy
Yes, but what is a doombuggy supposed to be? When it comes to conveyance vehicles, the Haunted Mansion is admittedly inferior to the Pirates of the Caribbean. The small boats you use to sail through an imaginary Caribbean port town are perfectly suited to the world you are entering, requiring minimal suspension of disbelief. That's how you would do it, if you were really in a position to do it. But I've never heard of a real haunted house with a string of pods snaking through it.
The Ghost Host refers to them as carriages, but I'm not inclined to take that too literally. If they're carriages, where are the wheels? Like the prohibition against flash photography and the mention of safety bars, it's a concession to reality that you're supposed to tolerate as part of the price of having an experience like this. Guests need to be informed in advance that they're going to be getting into a vehicle and had better be ready to pair up with "two or three loved ones." "Carriage" is just about as neutral a term as you could expect under such circumstances. What else could he call them? "Vehicles"? "Conveyances"?
But within the imaginative world of the HM, the doombuggy must be something, right? I've heard it all. "It's a hearse." "It's a coffin." "It's what he says it is, a carriage." "It's a chair."
None of these is satisfactory. If they had wanted them to be little hearses, it would have been easy enough to supply some appropriate decoration. That's what they did, for example, for the Haunted Castle at the Boardwalk in Santa Cruz, California:
Well, are they coffins, then? X. Atencio's first impulse, as a matter of fact, had been to outfit the omnimovers like coffins:
.
You've got the same problem. If they're supposed to be coffins, why don't they look like coffins? Could they be chairs, then? They
do
bear a certain resemblance to what they call
porter chairs
: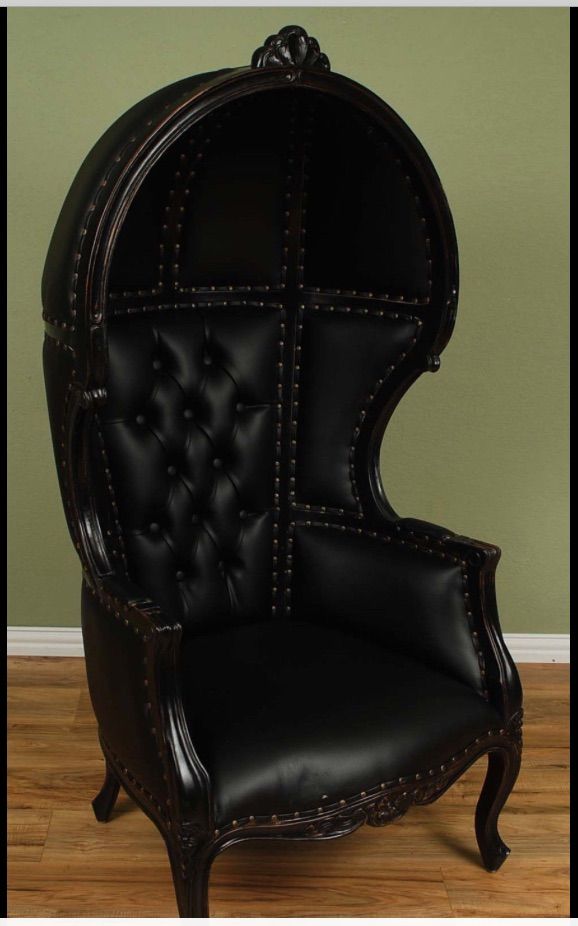 But gimme a break, you're floating through a house in an armchair? That's a bit . . . much. And if
such were the case the GH could very well have invited you to "take a seat in the chair" provided.
What they really are is exactly what they look like: nothing! They're shapeless, featureless blobs, painted flat black, which in itself is a sure sign that you're not supposed to "see" them at all.
Nope. Don't see nuthin'. Blank. Zip. Nothing there.
To illustrate the idea, I like to point to Bunraku, a traditional form of Japanese puppetry. The puppeteers are in full view, but dressed and hooded in black. By the second act, the puppeteers often dispense with the hoods, because by then you no longer "see" them.
They often have several puppeteers working the same puppet, as in this 1935 photo.
Doesn't matter. They aren't there.
.
"Dum de dum dum, you can't seeeee us!"
It's really the same principle as ignoring the plainly visible strings on a marionette, just a more extreme application. That's how it is with the doombuggy, except that you're the puppet. Gulp.
Notice how, in this famous Claude Coats concept sketch, the back of the doombuggies is already "invisible" before you've even left the area. The "E" Ticket Magazine recognized this concept clearly enough, referring to the doombuggies as "colorless" cars and "nearly invisible vehicles" (#16/Summer 1993, p 5).


The earliest known reference to the conveyance system is in a press release from early in 1969, announcing the opening of the ride later that summer. I have here a March 23rd clipping that says that the Mansion will provide "perpetual levitation for moving guests through the haunted halls...." There's your official explanation. Okay, you're only "levitating" if you can't see anything holding you up, am I right? No one would use the word "levitation" with reference to riding in a carriage or some other kind of visible conveyance, so apparently you're to imagine that you're being carried by some mysterious and invisible force.
We're getting carried away here.
Incidentally, you're not being carried by the Ghost Host himself. Remember, he leaves you at the end of the Séance ("I'll see you all a little later...")
and finds you again near the end of the ride ("Ah, THERE you are..."). Whoever or whatever is doing it, eventually you are levitated outside through an attic window onto a small porch, and then you are dropped off the roof. You
fall
to the ground through a tangle of bare trees. Actually the ghosts are only teasing, and the so-called "fall" is apparently meant only to scare you, because you find yourself gently upborne by that same unseen force, landing uninjured.
We know that you "fall." Frank Allnutt, WED public relations manager when the HM opened, said so in a ride summary dated April 8, 1969:
Mortal visitors escape "outside" the mansion, only to suddenly "fall" backwards off the roof. They descend past grasping, demon trees, then find a terrified night watchman and his dog, standing, frozen with fright, at the gates of a misty cemetery.
There is some uncertainty about whether you "die" from the fall and join the party or not. Some people think so, but I doubt it. The spirits continue to either ignore you or have fun trying to scare you (the pop-ups). In other words, you're still not one of "them," not yet, anyway.
So pay no attention to that man behind the curtain. There's nothing there, even if it's nothing with a safety bar attached.