.
In the Conservatory of the Disneyland Haunted Mansion, directly across from the coffin, on the other side of the tracks, you'll find a door, and to the left of the door, you'll find this:
Nice, but so what? Curiously enough, there's supposed to be a door there. It's on all the blueprints . . .
. . . and in the Orlando and Tokyo Mansions, there is a door there. Here's a side-by-side, with DL on the left, WDW on the right.
Again, in more recent pix: DL top, WDW bottom.
It's supposed to have a clack-clack phantom knocker on it, and again, at Orlando and Tokyo, that's what you get.
So where's the door, and why the mirror? The answer is: No one seems to know. The mirror has always
been there, at any rate. You can glimpse it in the Osmonds special from March 1970:
The answer is probably something mundane. Perhaps the door frame came out of the mold defectively, and there was no time or money to cast another one. (Like other HM fixtures, it's fiberglass.) So they had to improvise. There is another possibility, however, and this is admittedly speculation.
One effect the Imagineers were reportedly contemplating for the Corridor of Doors was a "girl in the mirror" gag. The following piece of concept art comes from the 1990's, but I understand that the effect it shows was kicked around by the original Imagineers as well: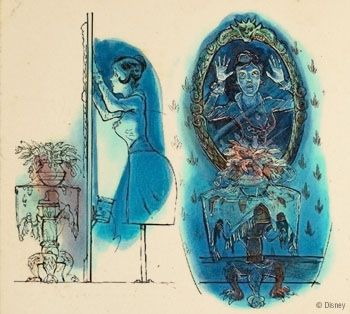 A form of this effect was eventually used—at Phantom Manor, in Paris. (And, I might add, you can find it other places: the Cheshire Cat in the mirrors in The Mad Hatter shop and Mickey in a magic mirror in his Toontown house, both at DL.) One can't help wondering if, by some small chance, the missing DL door was deliberately omitted, and the innocent looking mirror now hanging there was actually intended for something much more sinister, but the gag was scrapped for some reason or other.
It is a tribute to the Haunted Mansion (and to the geekiness of its fans, I suppose) that a trivial find like this one engages the imagination. I doubt that a missing door in It's a Small World would get blogged anywhere. But the Mansion Imagineers have created an environment that encourages you to enjoy the illusion of a house that's more than a house, one that's almost alive. Looking at some concept art, you can see just how far Imagineers like Claude Coats were willing to push the surreal nature of the building itself.
So for those who are happy to absorb the atmosphere of the place, the missing door becomes something intriguing once you're aware of it. You could almost think it may appear someday, or better, that it
is
there right now
but you can't see it
. *cue the eerie organ music*