.
Updated Nov 6, 2019
It is well known that the Haunted Mansion Imagineers did a lot of research into ghost lore, looking for ideas. In at least one version of his 1957-58 Ghost House, Ken Anderson populated it with famous villains and spooks from history, literature, and cinema. When Rolly Crump and Yale Gracey took over the reins of the project in 1959, they too read a lot of ghost stories, according to Rolly himself. The fact that they were doing this kind of research even made it into official press releases.
Occasionally, if we're lucky, it's possible to trace something in the HM back to its original inspiration in ghost lore. A good example is the Brown Lady of Raynham Hall, whom we have met
before
, once upon a nightmare. She first inspired a sketch by Ken Anderson which then wandered through Marc Davis's imagination and eventually emerged as the attic bride.
Another good example is
the Phantom Drummer of Tedworth
, the first really famous poltergeist in England. He was a pretty spectacular ghost, causing quite an uproar back in the 1660's. What we know about the Phantom Drummer comes primarily from
Saducismus Triumphatus: Or, Full and Plain Evidence Concerning Witches and Apparitions
, a two-volume set published in 1681 by Joseph Glanvil. The book was a seminal early investigation into supernatural phenomena. (Incidentally, it was also an excellent example of early printing, a very handsome edition for its day.)
As Alice says, what is the use of a book with no pictures in it? Not to worry; as you can see, Glanvil was illustrated.
That's the Phantom Drummer of Tedworth in the upper left corner.
The Imagineers thought about bringing this famous spook to the Mansion, and Marc Davis did a concept sketch,
clearly labeled "The Phantom Drummer of Tedworth." Marc wanted the drum sound to be a human heartbeat.
(He modeled the drummer on a previous sketch of skeletal Revolutionary War ghosts, not published until 2019.)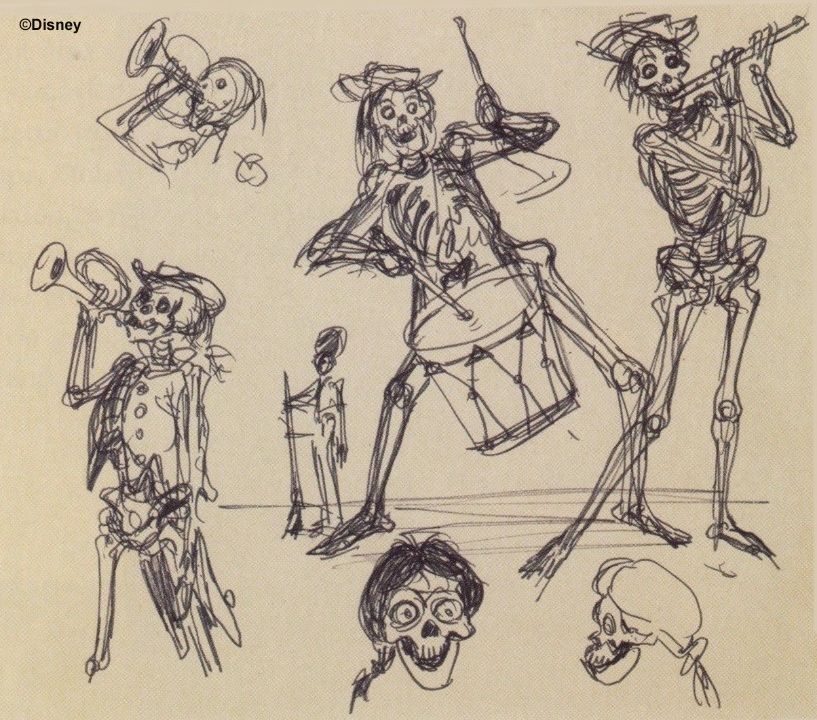 MDIHOW 371
They didn't use the Tedworth ghost, of course. Or did they? Notice the band uniform? When the idea of a graveyard band was first being kicked around, the drummer was much more of a central character in the artwork. He had a quasi-quasimodo sidekick just to hold up his drums.
As the band idea took shape, the ensemble expanded, and the drummer became less of a star.
He still had his flunky, however, until quite late in the game:
Maybe that explains why he looks so p.o.'d. Actually, I've always thought he looks a little like Charlie Watts.
It's the mouth. Look, if Keith can do Disney movies....
Besides the illustration in Glanvil, there's another noteworthy rendering of the PD of T, dating from the 19th c., a satirical sketch by
George Cruikshank
. Cruikshank was a famous caricaturist, perhaps best known for illustrating Charles Dickens' books.
Marc Davis would likely have been familiar with Cruikshank's work.
It's interesting to compare Cruikshank's ghostly drummer with Davis's artwork.
Just as it's interesting to compare the original Glanvil illustration. I wonder if the horns and ears
of the little devil may have suggested the style of hat Marc used in his sketch.
Whatever contribution Cruikshank's sketch may have made, when you're looking at that diabolical imp flying over the roof in that old engraving, you're probably looking at the original spark that eventually gave us the graveyard band. The Phantom Drummer became the Phantom Five.