(animated gif by Boogafrito)
I'm interrupting our bride series because I'm hoping to get permission to use some very fine photos. Seems like as good a time as any to turn to the attic's
other
famous resident, her groom.
(Please note that this post was written several years before the return of the Hat Box Ghost in May of 2015. That event is discussed
HERE
.)
The Hat Box Ghost: Fact and Fiction
If this were the mid-1990s, an article on the Hat Box Ghost would have to spend a lot of space (1) explaining what the heck the "Hat Box Ghost" is, and (2) arguing that such a figure once existed. It was a classic case of a "Long-Forgotten Haunted Mansion Effect."
What a difference 15 years makes—especially if a little thing that starts with "www" explodes during those 15 years. Now the problem with writing about the Hat Box Ghost is how to say something that hasn't
already
been said umpteen times, and how
not
to alienate readers who are tired of hearing about him. In some ways I can't blame them. When the merchandizing arm of Disney began planning how best to celebrate the Haunted Mansion's 40th anniversary (and how best to soak the fans for every spare nickel), they decided to make the HBG their main mascot and plastered his visage all over the place: HBG on posters, HBG on online announcements, HBG pins, computer-animated HBG hosting the
Haunted Holidays
website—you couldn't escape the HBG's evil grin if you paid any attention to the HM 40th at all. Frankly, I couldn't wait for it to be over and gone.
For readers who still need the basic facts about the HBG, there are good treatments
here
,
here
and
here
. (If some of what follows sounds suspiciously similar to what you find at those links, it's not because I'm ripping them off; it's because I had a hand in their composition.) Most of the known photographs of the HBG can be seen at those links as well. They've been posted and re-posted
ad infinitum
(some would say
ad nauseum
). Nowadays, you can even feast your eyes on schematic and electrical diagrams for the figure. Among the photos, one stands out. It's unique, and it's regarded by many aficionados as the most precious photographic relic of all time from the Mansion's entire history:
That's exactly the sort of horizontal sweep that allows one to construct a 3D "magic eye" photo:
Well, what can I say here that hasn't been said everywhere else? How about a couple of eyewitness testimonies? Here's my lovely little tale, something I've recounted many times. If you've heard this one before,
let it scroll, baby, scroll.
Our family had our usual annual DL trip during the first week of August, 1969. On the Jungle Cruise, between Trader Sam and the dock, the skipper asked us if anyone knew what was happening this weekend. Nope. In a
basso profundo
, he told us that the Haunted Mansion was opening, wisecracking that as usual Disney only took ten years to build a ride. My brother and I went from ecstasy to despair in the course of about three seconds. We had been waiting it seemed like
forever
for that old house to open its gates. Now we had barely missed it and would have to wait a whole year to see it. Reasonably enough, we concluded that life stank.
Well, a week or so later, some business or other required us all to ride through Anaheim, and as we passed within eyesight of the park, my Dad suddenly asked my brother and me if we'd like to go in for a couple of hours (it was already late in the day). This was unheard of. Once or twice a year was about it for our family DL trips, and the visits were never close together. He knew how badly we wanted to see the haunted house, and—bless 'im—he just decided to indulge us this once.
Ka-chow. Speed, I am speed. I'm racing down Main Street, swinging through Adventureland, knocking over old ladies (kidding, just kidding), and getting into the looooooooong line. I've got some great memories from that day. I've told you about the hitchhiking ghosts in the mirror. But in retrospect the most valuable has turned out to be my memory of seeing the Hat Box Ghost. This was August 14th, Thursday of opening week.
As our doombuggy turned to scoot into the attic, the first blast-up ghost caught me just
perfectly
, just exactly as designed. It's one of those things that can only really surprise you once, and luckily for me the timing was exquisite. There were the other pop-up ghosts too, of course. The methodical screams and squeals every few seconds pretty much advertised their presence. Coming up soon on the left was this murky, bridal figure, back among the rafters and debris. The first time through I don't think either of us even recognized that she
was
a bride. And at the end of the attic scene there was this well-illuminated, creepy little old man in the corner on the right, wearing a cloak and top hat, and holding a...I guess that's a hat box?, with his hand quavering on top of his cane, as if he was a very old man. Very creepy, and unlike anything else in the attic. It is my recollection that in the course of what must have been two or three or four rides that day I noticed that the hat box would
slowly
light up and had a head inside. I noticed nothing unusual about the
other
head. It wasn't disappearing and reappearing, like we learned later it was supposed to. You know, like this:
And that was it. On our next visit several weeks later (with a church youth group—we
really
got lucky with DL visits that year), the weird little old man was gone, and the bride was in his spot. I figured this was a temporary situation, that something was wrong with the little guy. Even at the age of 14, I knew that figures disappeared from rides now and then for repairs, but they always came back. For a long, long time—far longer than seems rational—I always looked for him whenever we visited DL, thinking he might be back. Not until 2002 and the discovery of Doombuggies.com did I learn enough about what had come to be called "The Hat Box Ghost" to know that he had never really come back.
In conversation with the one other trustworthy eyewitness that I've found (a guy who went on to work with Marc Davis for some 14 years, incidentally), more details emerged. He visited the park often in those early days. He tells me that the first time he saw the HBG his face did indeed disappear and flash into the hat box, but the next time the effect didn't work right: the face was continually lit, but the hatbox face continued to flash on and off. (This is what
I
remember.) Another time the face was completely blackened while the hatbox continued to flash away. He says that later on, at least once, they moved the bride out of his spot and tried the figure yet again.
Now, these are the recollections of one person from when he was 11 years old, so the usual precautions about the deceptiveness of memory apply, but the account is inherently plausible, and together with other testimonies, a tentative history can be patched together.
The HBG was definitely there for the "soft opening" and seen by Cast Members August 7—8. It was noticed immediately that the effect didn't work very well (catching problems is one of the reasons they have CM "soft openings," after all). They pulled him out before the HM opened to the public the next day, Saturday the 9th, but he was already re-installed by the 10th. Thanks to maintenance records discovered by Tony Baxter in 2013, we know that the figure was certainly in use for at least a couple of weeks. They tried to get the effect to work. After removing and reinstalling the figure—perhaps several times—they finally gave up and permanently removed him. This explains why some early riders, even opening-day riders, have no recollection of the figure, and the false notion that he was never seen by the public became such common currency that it wound up in the first edition of Jason Surrell's generally reliable book,
The Haunted Mansion: From the Magic Kingdom to the Movies
(2003). Significantly, in the second edition (2009), this denial has been watered down to an admission that
maybe
the public saw him.
What was the problem? Various reasons have been given, but the most likely explanation is that the effect didn't work. The face was painted with fluorescent paint that glows under a black light. It was supposed to disappear when the focused black light spotlight on it was turned off. The problem was that there was too much ambient light in the attic for the face to fully disappear on a figure so close to the track, and the illusion was unconvincing. After he was removed, the bride was shifted to his spot so that the attic would still have a climax of sorts, and that was that.
The Hat Box Ghost: Becoming a Legend
So....
how did this failed character become such a legend, almost a cult hero? Well, you can credit (or blame) the souvenir record albums, first and foremost. Both the "Story and Song" LP, intended for older kids and young teens, and the children's record describe him in some detail and feature him prominently in their artwork. These records were popular and were sold at the parks for years. This means that an entire generation of HM fans grew up hearing about the ghost and seeing his image. He is described in connection with the bride in the attic. Well,
here's
the attic, and
there's
the bride. This is where that ghost with the hat box is supposed to be.
So where is he?
The records ensured that he was never going to be completely forgotten. In short, you can credit a lot of the Hat Box mystique to these words...
The Hat Box Ghost on the Children's Record
...and to these images:
The other thing that kept the HBG flame lit was Disney's use and reuse of publicity shots for the HM featuring the HBG. It seems that sometime in the latter part of 1968 Disney decided they would need some eye-catching promotional photos to include with press releases about the soon-to-be-opened Haunted Mansion. Special effects whiz Yale Gracey was recruited, and he struck a series of whimsical poses with HM ghosts, most of them reflected cleverly in a sheet of glass (the old "Pepper's Ghost" trick) or double-exposed. There were a
lot
of these, giving newspapers a wide assortment from which to choose.
Not only that, but numerous poses from the same photo session were usually released, giving the papers even more choices within choices. As it turned out, the most popular shot was Yale posing with a HBG prototype (
not
the actual figure).
At least eight different pictures from that particular photo shoot found their way into various publications.
Disney used these photos in their own publications, naturally.
Put it all together, friends, and it's no mystery why a sort of Hat Box mystique began to develop. He was the ghost of a ghost, leaving an ongoing sense of his absence in the attic. He was a palpable presence there, made real only by memory. A mystery. An enigma. The perfect place for a ghost, living his unlife somewhere between your imagination and the solid walls of the Mansion. Best ghost in the house, some would say, because he's there but you never see him. Hey, who am I to disagree?
You go a little further, and just in case you missed it the first time, there it is again, this time on the left:
a skull-like head jumping out of a round hatbox.
Just to clinch the fact that the blast-up ghosts are indeed foreshadowing the Hat Box Ghost, it may be noted that Yale Gracey originally intended them to be much more explicitly skulls. Compare his early sketch with the actual schematic for the effect: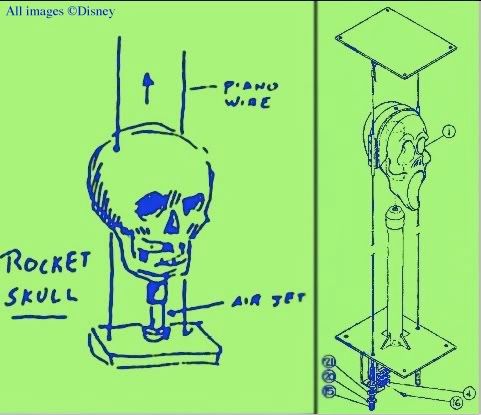 He even built one like that. You can barely see the top of it in this photo of Yale in his workshop. It's at the bottom in the extreme foreground. If you can "magic eye" it, it's much easier to see. (I'm telling you kids, it's a skill worth acquiring). If that isn't a "rocket skull" in a leather hatbox, then it has something to do with the Hat Box Ghost himself, I'll bet.
Speaking of leather hatboxes, that one in the Yale photo looks like it could be the actual one used in the ride, which is curious because...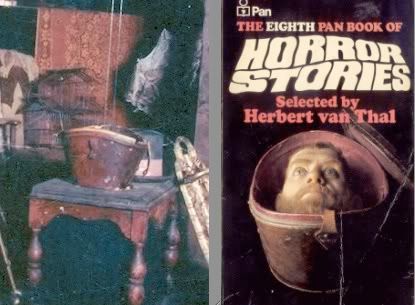 I suppose I could take that further, but I'll quit while I'm a head.
If you're paying attention, you might have noticed how little the attic of today has departed from the original, thematically. Next up, when we start taking a look at Constance, we'll see how closely related the old and the new attics are.