.
(This post was extensively rewritten Oct 23, 2019.)
That was her name, or
title
, I suppose you'd say.
"Beating Heart."
It's on all the blueprints and on the schematics for the figure herself, but somehow it never made its way into public usage. As we saw in the previous post, the title was originally attached to the Moving-Lights ghost, who had picked up several features from an earlier ghost.
In our last exciting episode, we traced BH's roots from the Brown Lady of Raynham Hall to the red-hearted candle bearer in the attic. The project had proceeded to scale model phase, and still the attic ghostette wasn't clearly recognizable as a bride. This final touch to the character was probably added late in 1968. The script for the "Story and Song" album refers to her as a bride, and this script in turn closely follows a '68 show script by X. Atencio. Whose idea was it to turn this ghost into a bride, anyway?
Ken Anderson makes a modest contribution, early in the process. He wrote four show scripts in 1957-58 (
essentially
four; some of them have alternate ideas already included in them). The first script in particular (Feb '57) is often cited as the beginning of our attic bride. In it, Beauregard the butler directs our attention to a painting and tells the sad story of Captain Bartholomew Gore (aka Gideon Gorelieu) and his young bride Priscilla.
When Priscilla discovers the horrible truth that her husband is, in fact, a bloodthirsty pirate, he kills her. Her ghost comes back for vengeance and eventually drives Capt. Gore to suicide. Now the place is haunted. Bingo, haunted house.
Okay, that seems clear. A tragic bride haunting the house, looking for revenge. Case closed. They just borrowed an old Ken Anderson idea. Well, not so fast. First of all, there's nothing associating Priscilla with the attic, and more importantly, she's a "bride" by definition
b
, not definition
a
. A bride is a woman soon to be wed
or
recently wed. The former wears a bridal gown; the latter wears a purple dress (or jeans, or
whatevv
), like our poor Priscilla. Aside from the bare fact that she exists not too far distant in time from her wedding day, Pris really has nothing in common with the familiar attic bride of the finished ride.
Which one is naughty and which one is nice? I'm not telling.
Anderson's other three scripts don't get us any closer to the attic bride. Two of them
do
organize the present day's ghostly activities around a wedding feast. In one, "Monsieur Bogeyman" is planning to marry "Mlle. Vampire," and all kinds of famous spooks and monsters are showing up (Dracula, Frankenstein, etc.). She jilts him at the altar, and things get ugly. (Truth be told, I'm very thankful that one ended up on the cutting room floor.) In another, the narrator guides you through the house toward a wedding reception. It seems the ghosts of the luckless Blood family have been trying to complete the tragically-interrupted marriage plans of one of their daughters, and sure enough, you
do
eventually see a ghostly wedding banquet of sorts taking place.
Anderson can be credited with the notion that a wedding gone awry would make a good basis for a haunted house, and notice that in that last scenario, an actual
ghost bride
would have been represented. This might be a good place to ask the question: "Do we ever encounter a ghost bride in popular (or unpopular) culture before now?" Somehow she feels familiar, or at least not odd, but examples of ghost brides are hard to find. Hard, but not impossible:
From Judy, Or The London Serio-Comic Journal, 1876. Hat tip Craig Conley
Doombuggies
found another example.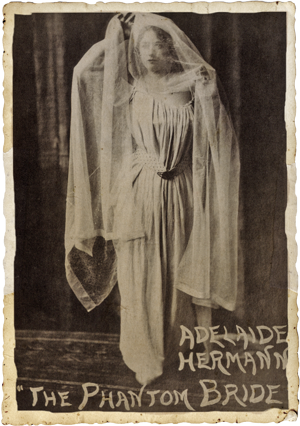 Okay, so when do we get to see a ghost bride in Haunted Mansion artwork? Well, we left off at 1968 in the
previous post, but we are going to need to back up, because Mare Davis did a sketch of a ghost bride in 1964.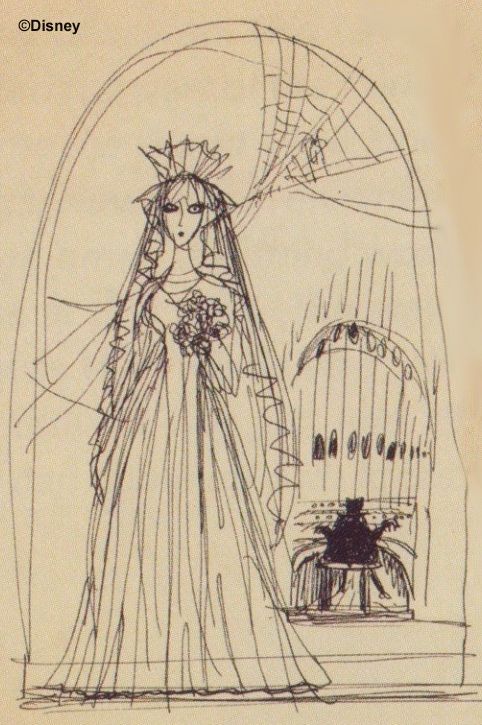 MDIHOW (342)
The Haunted Mansion project was put on ice for the remainder of 1964 and 1965, while the New York World's Fair consumed everyone's attention. When it was over, the Pirates ride sucked a lot of the oxygen out of the room. It really wasn't until 1968 that Marc returned to the HM in earnest. At that time he did more bride sketches: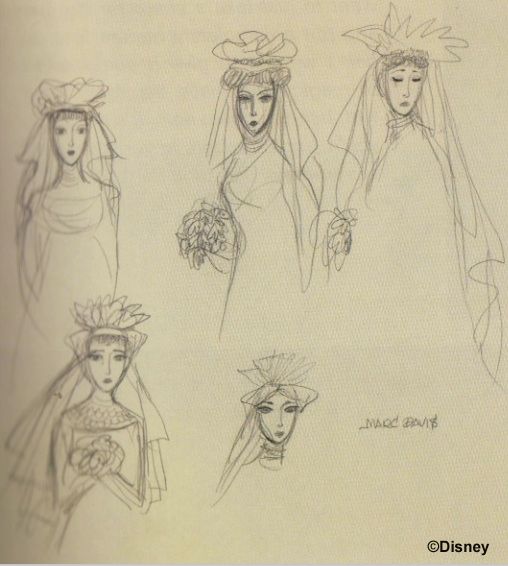 MDIHOW (397)
It's possible that this Davis sketch of a ghost bride on a stairway landing was done about this time.
Obviously, Davis liked the ghost bride idea, and we may speculate that one day the light bulb clicked on, and he realized that his weird "Beating Heart" ghostette could be conflated yet again with a different ghost, this time the bride.
At last our elusive ghost has donned a wedding gown.
One final decision remained, however. It was decided at some point that the bride should have a corpse-like face. It used to be thought that Marc's "changing portrait" showing a forlorn bride turning into a corpse belongs here, but it has been plausibly explained that this isn't a changing portrait at all but an effects concept showing how the attic bride could be transformed from one stage to the other (presumably through projections of some sort). Since there is no trace here of Moving-Lights (no beating heart, no bubbling weirdness), my guess is that it pre-dates Marc's decision to merge the ghost bride with Beating Heart. See the Comments.
The ghost we finally got was actually a combination of three different characters:
Anderson's candle-holder, Davis's Moving-Lights ghost, and a "corpse bride."
They put Beating Heart in exactly the spot occupied by the maquette figure in the scale model; that is, on the left side, and a little ways to the left of the spot where today there is a ghostly piano (I'm talking DL, of course). For you young'uns with short memories, her heart glowed red and visibly pumped back and forth, while the sound filled the attic: Lub dub. Lub dub.
That's where BH was on opening day, and that's where I remember seeing her on August 14th. Some new information that came to light a few years ago reveals that a large plastic sheet (called "nylon 6") was in front of her, stretching from post to post and floor to ceiling, probably with the intent of making her appear fuzzier. That too jibes with my memory. I remember her slowly rocking back and forth in an area that reminded me of a door frame, and yeah, she was definitely murky.
She was there less than a month. When the (infamous) Hatbox Ghost, which was located near the exit on the right, failed to perform as hoped and was removed, BH was transplanted to his old spot. There she remained from August or September 1969 until May 2006, when she jumped the track to the other side and became Constance, that zany hubby-whackin' axe murderer.
What did that original "Beating Heart" bride look like? Her body was essentially that of the Moving-Lights ghost in a wedding dress, and it remained so right up until she was replaced by Constance. Many of you may never have seen the Moving-Lights body in action. It's
very
clear in this video:
But her face in the beginning bore a strong resemblance to the corpse phase of the Marc Davis "changing portrait" above, and for that reason this first version of the bride has picked up the name "Corpse Bride." For the Disneyland original, we have a number of good photos of the figure, from pre-opening photos of the figure before installation, down to 1975. Here's a montage:
We also catch a fleeting glimpse of her in the background of a scene from the March 1970 Disneyland Showtime episode, which featured the Osmond brothers and showcased the new Haunted Mansion. The program was filmed in January or February of that year, so we're mere months past opening day. Here's what happens if we blur and fade one of the above photos and put it alongside the Osmonds bride (which is on the right)
However, even
that
is not the oldest photography of the original bride in the attic. One day in June of 2011, Disney fan and historian Todd J. Pierce was going through a box of old home movies and photos he had acquired, and there he found a small reel dated August 1969. To his astonishment, this one-minute film featured a rare glimpse of the Hat Box Ghost, as well as about three seconds of murky footage of the bride, to date the
only known photography of the original bride in her original position
. An edited version of the film was posted at the
Disney History Institute
and eventually Youtube. Not much of the bride is visible, but you can see the red heart, beating back and forth, the tip of her glowing candle, and a number of large white smears and smudges. Occasional details like her hair are visible only in a frame or two here and there. Here's a GIF with a picture of the Corpse Bride superimposed on a composite of various stills from the film. The fit is exact.
Exactly when the Corpse Bride was replaced is not known, neither for DL, nor for her twin at WDW. At DL she
was
definitely still
there
toward the end of 1975 but gone by 1979. Her Florida cousin likely disappeared around the same time.
Speaking of WDW, unlike the situation with regard to Anaheim, photos of the original WDW bride are extremely rare. One surfaced in February of 2013 and showed up at the irreplaceable Daveland site. It's the Corpse Bride, all right, but it looks like her face in Orlando was never painted with the same amount of detail as the DL version, especially in the lower part of the face.
Remarkably, there exists also a film clip of the original WDW bride from 1976:
"Long-Forgotten" threadster Michigan Guy has put together an artist's conception of what the Disneyland
original looked like, and based on available evidence I'd say it's pretty accurate.
Kids, hide your eyes!

Okay, fine. Not my fault if you have nightmares. Where are your parents?
**********
Before we bring this episode to a close, I suppose that something needs to be said about
the photo below. It's sorta well-known, and it's often presented as the original 1969 bride.
There are enough idiosyncrasies about it that at least
one intelligent observer
has argued that it is a pre-opening prototype and not a production figure. The most glaring problem is the slit-like eyes. No other bride photo shows anything like that. Highly suspect.
In fairness, those eyes might be a conservative hold-over from the design you see in the maquette figure, which also has slittish eyes:
Not only that, but as it happens the mechanical design of the lighted eyes would allow for any amount of manipulation of their shape. You just mask the WALL -E eye box in her head (well, that's what it reminds
me
of) in any way you think appropriate and get any shape eye you want.
So yeah, I suppose it's theoretically possible that the slit-eyed bride was there as a short-lived experiment, but it's extremely unlikely that she was the original. Like the round-eyed, dark-faced version that eventually replaced the Corpse Bride (seen above on the left), the slit-eye version has very bright eyes. They would certainly have been visible in the August '69 film footage if she were standing there, but the eyes are only visible in one frame, and even then just barely. I'm pretty sure the mystery photo is either a picture of the second version of Beating Heart (with the eyes narrowed), or it's a prototype.
Next up: The Black Face Bride